What to fish, where to fish and how to fish?
Rainbow trout, speckled trout and lake trout rub shoulders with smallmouth bass in Lac à-l'Eau-Claire, while speckled trout and rainbow trout share the other 11 lakes nearby, all easily accessible by car. 
It is also possible to purchase fishing permits and rent the required equipment (boats, fishing lines, motors, etc.) from our Rental Centre. Please note, however, that environmental regulations prohibit the use of boats and motors (gasoline) other than our own on our lakes.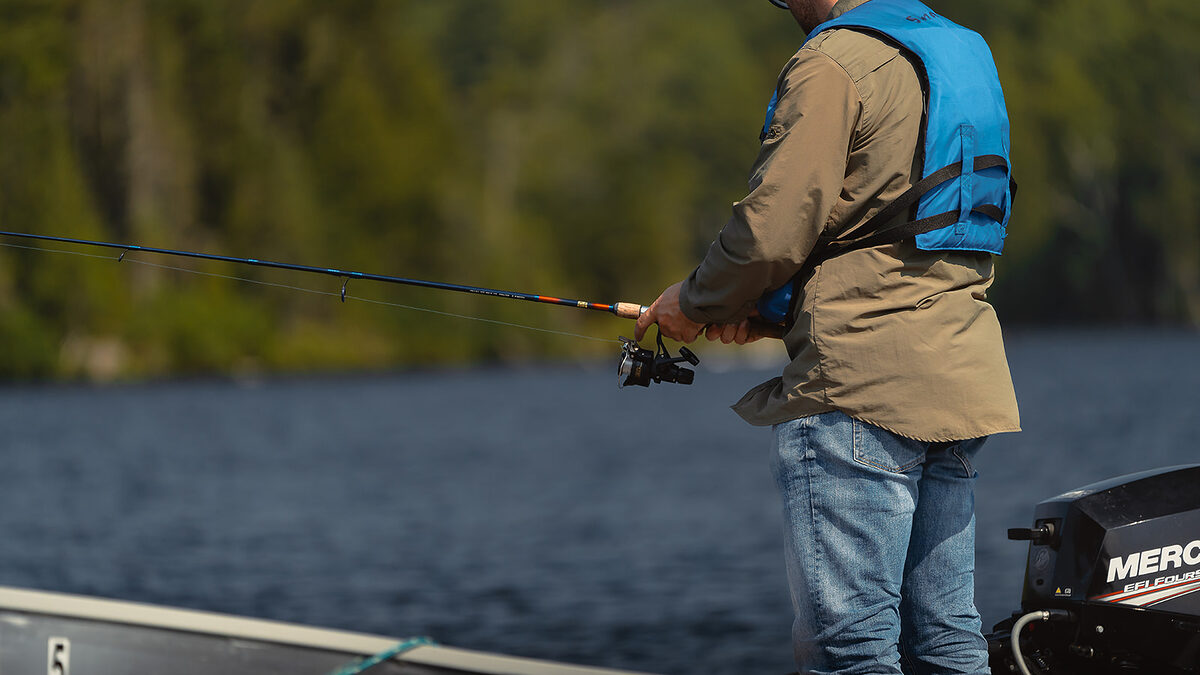 Trout Fishing
The outfitters' camp that surrounds Auberge du Lac-à-l'Eau-Claire contains no fewer than 12 trout fishing lakes. Whether you're a beginner, recreational, or experienced angler, we have a fishing package to suit you thanks to many brook (speckled) trout that are stocked in the lakes every year. This is Quebec fishing at its best.
Fishing  Brook trout
In so far as weather conditions allow, the first day of trout fishing season may be announced as early as May 1. You will thus enjoy ideal conditions, far from the sweltering heat of summer. Although fishing on Lac-à-l'Eau-Claire typically ends in early September, the season can sometimes go as late as October on some of the smaller lakes.
Fishing Lake trout
The season for lake trout on the other hand runs a bit later, kicking off on June 1. Every year, a few fishermen – whether they're patient, talented, or just plain lucky – manage to reel in a few trophy fish weighing over 20 pounds. The lake trout fishing season ends on September 1.
Useful tips :
Wooly bugger" flies are indispensable when fishing for rainbow trout. Whether on the large Lac-à-l'Eau-Claire or on the smaller lakes, using these flies will increase your odds of success
To lure in lake trout, we recommend a sinking line, a downrigger,  wooly bugger fly, a meter long Davis rosary or a blue, fluorescent or yellow rapala (20-30 cm). 
This species, which spends most of its time lurking at depths of around 200 feet, is not an easy target. Anyone who manages to hook one deserves bragging rights
Quotas
Even if you're getting lucky and the fish are biting, bear in mind that you must always abide by the trout fishing quotas:
10 brook trout

2 lake trout
Bass fishing
After trout, smallmouth bass is one of the most familiar species and one of the most widely pursued by fishermen. This native species is found naturally in Lac-à-l'Eau-Claire as well as other lakes in the vicinity, with no human assistance in terms of stocking, etc.
Just like trout, the bass fishing season can begin as early as May 1 when environmental conditions are cooperative.
 Bass season continues all summer long, ending in early September, when mild weather allows the lake waters to remain at a favourable temperature for fishing. 
Useful tips :
To maximize your odds, use "wooly bugger" flies. This type of fly has the reputation of bringing greater success for this species, especially on the larger Lac-à-l'Eau-Claire. 
Quotas
For bass, the quota is 5 fish per person.
Ice fishing
Come tempt the trout, in a friendly atmosphere, on the ice-covered frozen lake. It's the perfect opportunity to get familiar with fishing together with family or friends! Our Chef will be pleased to get your trout ready for your evening meal! Tip-ups and fishing licences are available at the
Rental Centre
Need a guide for your outing? No worries here either! Our Rental Centre team will coordinate your needs and provide you with a memorable fishing experience alongside one of our experienced guides! 
Happy fishing!